Like any traditional minded couple, myself and my wife have been saving up for a home. It was also to get us committed to an investment for a long run. As we are working in Bengaluru, we were eager to buy a flat in Bengaluru. COVID happened and things changed in life and brought us back to Chennai and locked here.

While we were here, we were going around checking for any flat that would be within Rs. 30 lakhs, which was our budget. We were ready to go a little further to 35 lakhs if needed.

As we were still shopping, my wife came across ads on Facebook for Risland - The Ace, Perungudi located in No.1, Corporation Rd, Thirumalai Nagar Annexe, Perungudi, Chennai, Tamil Nadu 600096. Promoted by Beauty Etoile Pvt. Ltd. As it was close to my wife's place, we wanted to check what they had to offer. Even before walking in, we already know it was above our budget. It was just a windows shopping, that costed our dream saving, mental peace and disputed in the family.

After we walked in, we were shown around by Rakesh who was the sales person who attended us. The model house was splendid. Given the proximity to all the major office locations the price also seemed justifiable. The down side was the nearby dump yard which did not seem to be a location for an upscale living.

As we walked back to the reception and knowing our problem was only budget, we had the VP of Sales and Marketing, Manoj come in. Manoj then convinced us that we should be eligible for Rs. 40 lakhs loan. Then came Deva, who is the HDFC Bank sales representative stationed at their sales office. I showed the loan eligibility calculator from HDFC which says we were eligible only for a loan of up to Rs. 35 lakhs. Deva than said, HDFC has a special relationship with Risland and they can do higher amount and it will not be a problem to approve Rs. 40 lakhs. His manager can handle this and the calculator will only show normal scenario.

Me, still not convinced did not agree to move forward. Then Manoj and Deva said I can pay a token advance, after which they will process the agreement. With this agreement, we will be able to process the loan and we can proceed once we have the approval for the said amount. The token we agreed will be Rs. 2 lakhs, once the loan is processed, we would need to pay the balance Rs. 2.5 lakhs.

To get the documents prepared, Risland team asked us to fill an application form with the name and address as it needs to appear on the agreement. This was the trap which we did not foresee.

After moving out, I was asking Deva to start the loan processing. Deva then asked us to wait for a year and get the loan processing initiated, as the loan has to be dispersed in 6 months after approval, else we need to reapply for a new loan. After days of negotiation, Deva agreed to process the loan which will be valid for a year, which within which first disbursement will begin, taking care of the loan eligibility.

We forwarded all the documents, along with the loan processing fee to start the loan process. Weeks went by and we did not hear from HDFC, in the meantime, we were being pushed by Risland team to sign the agreement and make the balance payment. We had few corrections in the agreement which was email to them and were waiting for the final copy.

During this time, HDFC responded that we were only eligible for Rs. 35 lakhs and they cannot process the requested Rs. 40 lakhs. Deva then asked for more time as his manager would get the approval for Rs. 40 lakhs. During this time, I got COVID-19, and my mom's health started to deteriorate. Things did not go well and I could foresee a financial crunch ahead. Realising letting go of the only reserve we have will put us in a spot, we wrote to Risland, asking them to cancel our booking and make a full refund of our token advance.

I had sent this on October 27th, 2020 and my mom passed away on November 1st.

Things went down hill after we raised the request. They simply stopped communicating. There was no response to any emails. I was behind Rakesh in sales team and Rajesh in CRM team. Both would keep asking time, but would never get back with any status. I was behind them for a couple of months after which Rakesh said, that their management would never refund the token advance.

As the last resort, I walked in to their office again. Now Manoj, who convinced me to buy a flat has left the organization and they had Stalin join in. Stalin again did not provide me with any help. But stated that the application form we signed has clause which says the token advance will not be refunded in case we back off from this purchase. Which was totally opposite to what Manoj and Deva convinced us in the first place. We asked for the application copy we signed. It was declined as it is with their legal team and we only need to move legally going forward.

I then took a photo of the application left on their reception counter to understand what we had signed. The clause were pretty ruthless which I should have got a legal opinion. A application form did not spark any suspension, which was the biggest blunder I made.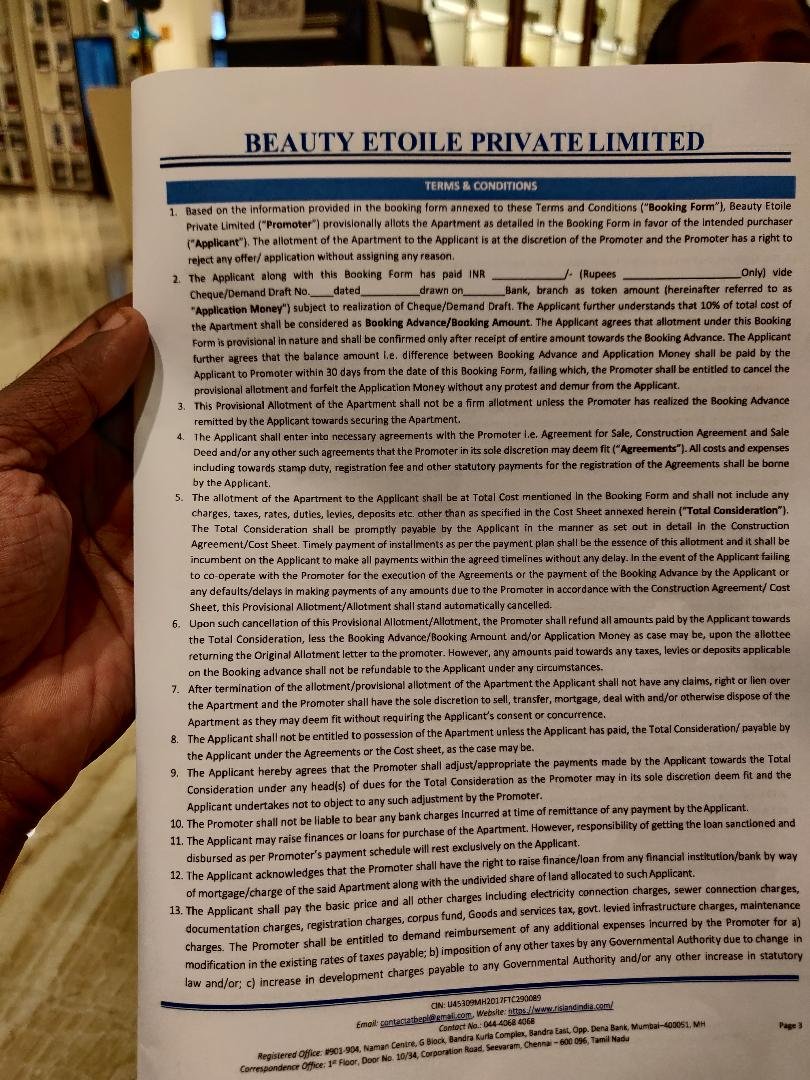 During the discussion with the sales team, they said Risland is a huge company riding on crores of rupees coming in from HongKong with a huge legal team. Even going to the police station or to a court will not fetch any result. Me as a customer has to fight this alone, but their team is in place, just to handle these kinds of problems.

After that I sent a registered post asking for a refund. I sent them all the details, including my COVID result and even my mother's death certificate to make them understand my situation, for which I got no response. Then followed by a lawyer notice, again with no response.

Now I have to knock the doors of the relevant consumer forum, investing my time and money to get back the money for which we did not get a service or product worth a penny.

I am writing this blog, for any new buyer. Do not make the mistake I did. Do not go with false promise given by the builder's sales rep or bank loan reps, when facts are right in front of us. If we do, we are willfully walking in to a trap. If I had trusted only the loan eligibility calculator, Deva, HDFC sales person would not have been able to fool me. If I had taken time and read through the application form, we would have never signed on it.

Regarding Deva, I have raised a complaint to the branch manager at the HDFC OMR branch. I am also sending a written complaint to ASM, Hari Prasad. Asking them to train their representatives not to give false promises to help the builders sell more, in this case, trap customers. If their managers are also involved in this coalition with the builders, then nothing can be done.

With respect to Risland, I am moving to RERA to claim my refund. If anything progresses, will write more about it.